December
Jonti wins Dog CC at LKA Championship Show under respected breed specialist Roberta Wright!
June
Jonti wins RCC at Three Counties Championship Show.
March
Nosferatu Akitas Do The Double at Crufts 2009!!!
Jonti wins First Junior Dog and Reserve Dog CC.
Henrietta wins First Limit Bitch and Reserve Bitch CC.
We are so proud of them both! and would like to thank judge Helen Burke for thinking so highly of them.
Below left Jonti is pictured with Tina and to the right Hen is handled by our good friend Karen Rowley (Danti Akitas).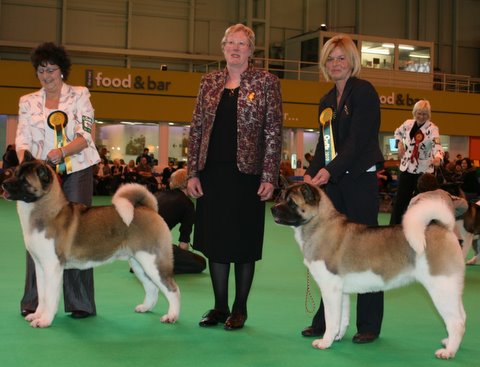 Below you can see Henrietta in action at Crufts, many thanks to Steve Rowley for the video.



October
Jonti wins Best Puppy in Show Akita Association Speciality
Tobi wins Best AVNSC Puppy, Reserve Best Dog, 3rd Puppy Stakes Midland Counties

September
Tobi wins Reserve Best Dog and Best Puppy Dog AVNSC Birmingham

August
Tobi wins Reserve Best Dog and Best puppy in Breed Bournemouth
Tobi wins Best Dog and Best Puppy in Breed Paignton
Jonti wins Best Puppy Dog & Reserve CC Bournemouth

July
Henrietta wins her second CC South Wales
Tobi wins Best Puppy Dog Akita Inu Club Speciality

June
Henrietta wins Reserve Bitch CC Blackpool
Ralph wins Reserve CC Blackpool

May
Alabama wins Best Puppy In Breed Birmingham

December
Henrietta wins Reserve Bitch CC L.K.A.

Henrietta becomes Top Winning Akita Puppy Bitch 2007!!!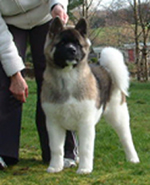 September
Henrietta wins Bitch CC Best of Breed & Best Puppy Darlington

July
Henrietta wins reserve CC and Best Puppy Paignton

June
Ch Sophie wins reserve CC Blackpool
Ch Tommy wins CC and Best Of Breed Blackpool

Winning the double at Three Counties Championship Show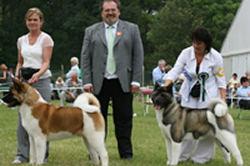 Nosferatu The Heat Is On At Danti (Dog CC & Best Puppy) - Ch Nosferatu I'm No Angel (Bitch CC & Best of Breed)
May
Ch Sophie wins reserve CC Birmingham

March
Ch Tommy Best In Show Akita Association Speciality





June
Ch Sophie wins her third CC at 17 months old, giving her the title of Champion Blackpool
Sophie wins the Bitch CC Southern Counties
Tommy wins the reserve CC Southern Counties

May
Tina Handles the Japanese Akita Inu "Indy" and wins Best AVNSC at
Bath. The first ever Akita Inu to win such an award.

March
Sophie wins Best In Show Akita Association Speciality
Sophie Best Puppy in Breed & Tiger Best Puppy Dog Crufts

January
Tiger wins Best Puppy Dog Manchester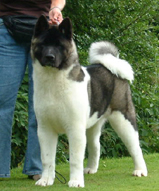 December
Ch Tommy wins Reserve CC L.K.A.
Sophie becomes Top Winning Akita Puppy 2005
October
Sophie Reserve Best Puppy In Show Akita Association Speciality
Sophie wins Bitch CC & Best Puppy at 9 months Midland Counties
September
Sophie wins Best Puppy Bitch Birmingham
Ch Tommy wins Dog CC Birmingham
Tiger Best Puppy Dog Sophie Best Puppy in Breed Richmond
Sophie Best Puppy in Breed & Best Puppy in Show Darlington
July
Ch Tommy wins Reserve CC South Wales
Ch Tommy wins Reserve CC Paignton
June
Ch Tommy wins Best In Show Akita Association Speciality
May
Nellie Kim wins Reserve CC & Best Puppy Bath
March
Ch Tommy wins Reserve CC Crufts
January
Ch Tommy wins Dog CC & Best of Breed Manchester